Toys for Kids has Australia's largest selection of ride on cars for kids. Our wide range includes electric Cars for children, Ride on bikes and Ride on Quad Bikes. Our range of Ride on Cars and Ride on Motorbikes are guaranteed to put a smile on your child's face! We provide excellent customer service and aim to please you and your child with our huge range and top quality.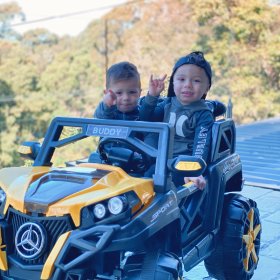 LOVE our little ride on we got Buddy boy for his birthday. The kids live in it. Easy to use and safely built. We could not be happier. Thanks guys!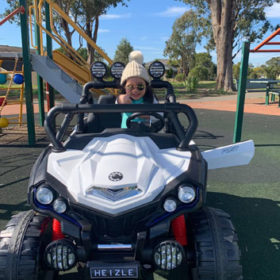 High Quality Toys For Kids at Great Prices. My kids happy with her car! Good service and the saler good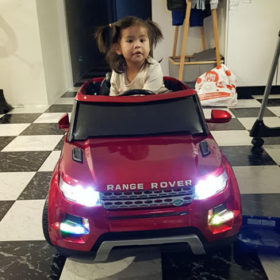 Went in today to pick out a present for my daughter's 2nd birthday and the staff were extremely helpful. They went above and beyond for us. Our little miss is super happy with her new car, she has been sitting in it for the last 3 hours
My 3 year old son Carter got a bike for his birthday and it's honestly the best gift he's ever received. I'll never forget the look on his face when he saw the bike for the first time. He is in LOVE! His little sister is already very jealous so we'll need to come back and get her one too! Thank you for your amazing customer service and professionalism.
FREQUENTLY ASKED QUESTIONS
Can I pick my order up from the store?
Definitely! We encourage you to explore our wide variety of options in-store and we also offer assembling in store. Please provide 24 hours' notice if you wish to pick up in store. We are open 7 days a week.
How long will it take to charge the car battery?
The first time you charge the battery, we advise you charge it for 12 hours (make sure you don't charge it for more than 12 hours). Subsequent charges will be shown by the indicator on the charger which will show you when the battery is fully charged (usually 3 to 5 hours).
How long will delivery take?
Sydney, Melbourne, Brisbane and Gold Coast metropolitan areas: 1-3 business days (approximately).
Other areas: 7-9 business days (approximately).
How much does delivery cost?
If you opt to have your order delivered, just enter your post code when prompted and an accurate figure will be generated by our delivery company depending on delivery location and size of the car.
How can I track my order?
Within 24 hours of placing your order, we will send you a tracking number so you can track your package from the store to your chosen destination.
Payment methods:
We accept payment via Visa, Mastercard, Paypal, Afterpay, zipPay and bank transfer.
Can I do layby?
Yes! We just need a 20% deposit in order to hold your purchase and will have it ready for you upon finalising payment.